The Student Network is a relatively newly established group within (Pharmacists without Borders Denmark) PwB-DK. It primarily consists of pharmacy students, and it was established in order to allow students to contribute with inputs and ideas to Pharmacists without Borders. In addition, there is also the opportunity for students to get involved in individual projects and thus acquire broader knowledge of PwB-DK's work.
Since it's beginning, the Student Network has developed a lot and the network has conducted several independent activities and ongoing focus projects. The Student Network meets once a month on Pharmaschool at Copenhagen University.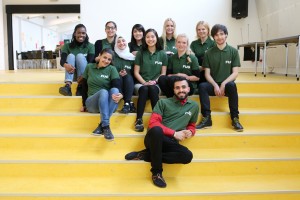 National fundraising at pharmacies
One of the activities is a national fundraising at pharmacies in Denmark, where Danish pharmacy students handed out collecting tins during their pharmacy internships. The collection ended in the spring of 2014. The money collected went to the campaign "Support us in the fight against counterfeit medicines" in relation to the project focusing on counterfeit medicines in Ghana.
The Cake Day
The concept of The Cake Day is very simple; pay 30 DKK and eat all the cake you want. The Cake Day takes place once a year, usually in the spring, at the School of Pharmaceutical Sciences, UCPH. Local bakers, friends and family members donate the cakes and all income goes entirely to PwB-DK's projects.
Fredagsbar at PharmaSchool
The Student Network also occasionally arranges friday bars at Pharmaschool. The students and other people with interest in the organisation can have a beer and a chat with representatives from PwB-DK.
Contact the Student Network at student@fug-dk.dk